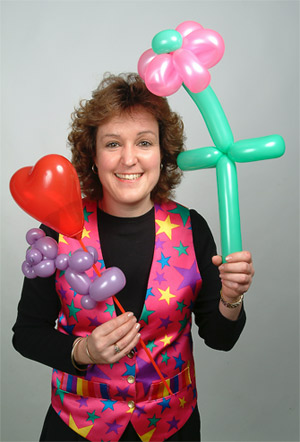 Balloon modelling also known, as balloon sculpting or twisting is the art of bending balloons into any given shape. It is guaranteed to captivate and entertain any audience, anywhere. Nikki who is a member of the Balloon Artists Guild is regarded as one of the leading female balloonists in the South of England. She is guaranteed to brighten up any event with colour and excitement.
Balloon modelling has come a long way since the days when children were satisfied with a basic balloon dog or a sword. Nowadays people demand more. That's why they love Nikki's amazing creations such as a motorbike, a space alien, a helicopter, Spider Man, a princess, a monkey climbing up a palm tree, a snow man, a penguin. The list is endless and is only limited by your imagination.
You Found Letter "C"

Find the other four letters to complete the treasure hunt.

Balloon Modelling is ideal for many occasions. Whether it's entertaining at a private family party or mingling amongst guests at a corporate event. One thing is for sure, Nikki will leave them amazed with her fabulous balloon creations.
Also the great thing about balloon modelling is, your guests and customers get to take a lovely souvenir home with them that will remind them of the great time they had with you.
So whether it's a seasonal theme such as Easter, Christmas or Halloween or maybe a nautical or some other theme you have in mind. Get in touch to find out how Nikki's brilliant balloon modelling can turn your next event into a truly colourful memorable occasion.
Children's entertainer, Female Magician, kids birthday party clown, family & corporate shows, covering Portsmouth, Southampton, Hampshire, West, Sussex, Surrey, Berkshire, Wiltshire, Dorset and beyond.