Nikki the magic lady is one of the most experienced and popular Birthday party magicians in the South. By using the knowledge and expertise that she has gained, performing at thousands of children's shows to boys and girls of all ages. You can be sure that your child's Birthday party will be in the hands of a true professional.
Nikki's shows are always fun, lively occasions, which are packed with lots of audience participation and laughter. Her shows are a laugh a minute and you can guarantee that the children will be in fits of laughter from the minute she starts.
Nikki will not only make your child the Star of the show, but the birthday boy or girl's friends will also get a chance to join in and help too. There is so much that the children can get involved in during Nikki's shows, Whether it's being a magical helper, or taking part in the fun games and competitions, Dancing to the latest chart hits, or joining in with all the party dances.
Nikki can either perform her hilarious comedy Magic Show or run the whole party for you with music, magic, disco dancing and games plus great prizes and giveaways. There is also the added bonus that the children will get to meet one of Nikki's magic bunnies and her pet dove too. You Found Letter "G"Find the other four letters to complete the treasure hunt.

Option 1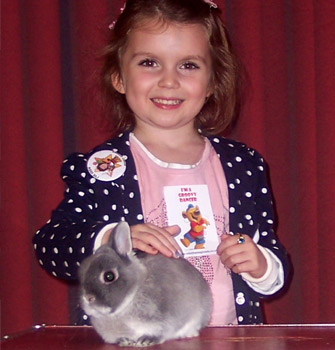 Nikki's Comedy Magic Show
Duration: 45 Minutes
The hilarious comedy magic show is ideal for parties where you the parent/s may want to get more involved and will conduct your own party games, supply your own music and prizes etc and just need a short performance to enhance your child's Birthday party.
This show is very colourful and interactive and there's lots of audience participation to give more of the children the chance to join in and come up and help with the magic. Also at the end of the show, they get the chance to meet one of my pet Bunnies or Doves who are magically conjured up during the show by the Birthday boy or girl. (If they wish)
Thank you for doing a wonderful job, the children (and there was quite a lot of them!) were very entertained. I think nearly every parent from the party contacted me to say how good you were. A huge thank you, my boys loved it!
Children's entertainer, Nikki The Female Magician, kids birthday party entertainer, family & corporate shows, covering Portsmouth, Southampton, Hampshire, West, Sussex, Surrey, Berkshire, Wiltshire, Dorset and beyond.